10 Clever Ways to Engage a Big Audience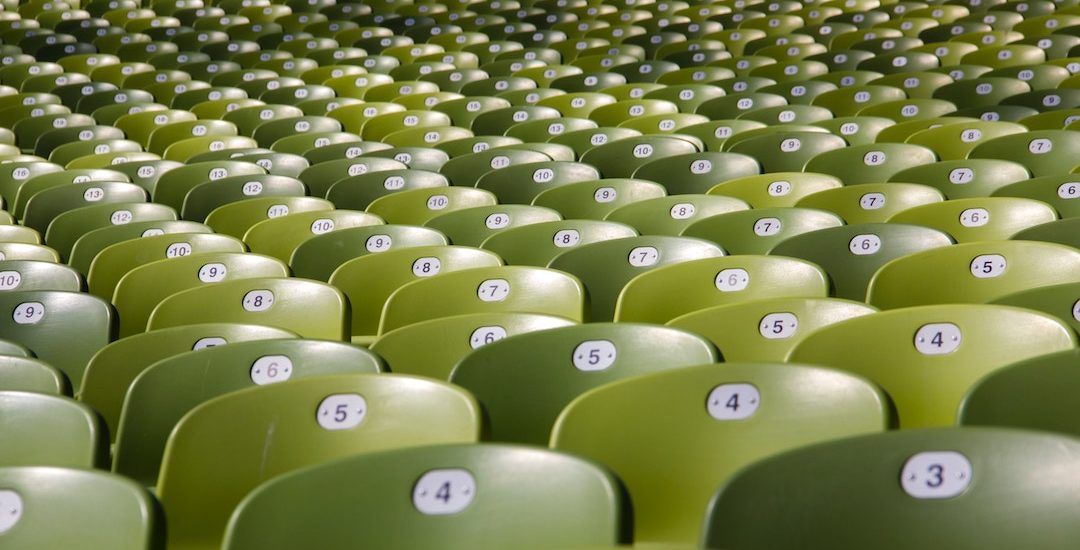 So you've got a big show on your hands. Perhaps a large, vacuous ballroom, a larger-than-life stage and screen and an attendance list well into the thousands. It's a tall order for just about any meeting professional – from catering to crowd flow to any number of logistical challenges – but what is often the last considered and often overlooked element in a big show is this: keeping them engaged.
It's true – the bigger the audience, the easier it is for attendees to zone out and doze off in their seats. No matter how engaging your showflow actually is, energy levels tend to dip the longer they sit and listen, especially in rows further back from the stage.
Thankfully, some cleverly-deployed tactics can be the difference between a back row snoozefest and total audience engagement start to finish. Check out our favorite tried-and-tested methods for keeping attendees engaged.
---

Game Show
Broadcast TV has recently experienced a renaissance in the form of the game show.  From "Who Wants to Be a Millionaire" to "Hollywood Game Night", game shows have moved from their traditional mid-morning time slot to coveted prime time slots.  Why?  Because they're fun!  They're cheap to produce and they keep audiences engaged.  There isn't a person alive who hasn't watched "Jeopardy" or "Wheel of Fortune" at some point that hasn't yelled the answer (or what they thought was the answer) at the TV set!
In the meeting world, corporate game shows often borrow popular formats, but swap the content in favor of material germane to the audience and industry.  Imagine using audience members as content experts with a Jeopardy style show where all the questions are about food science or a new technology.  
Fast paced, full of laughs and easy to produce.  But be sure to consider every detail… it's the little things that matter with a concept like this.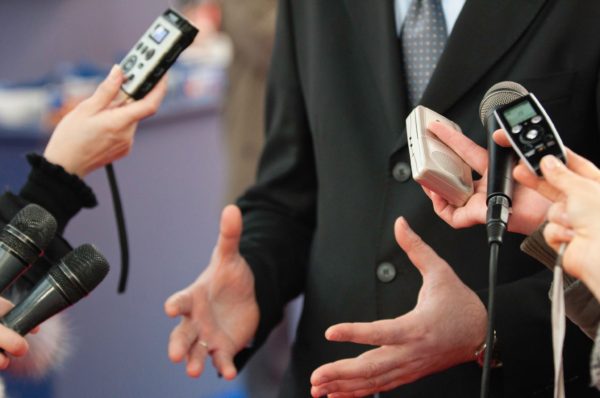 "Man on the Street" videos
When an audience is especially big, it can feel downright impossible to create an engaging atmosphere solely from the stage. That said, there's no reason that your engagement strategy has to come from the stage… why not get a crew out in the action?
Try using "Man on the Street" videos before a general session on a large show, where a small camera crew either set up a highly-visible station in common areas, or mill around to speak with willing attendees.
Of course, this kind of video would be great for future marketing… but one great way to amp up engagement during large general sessions is by using that footage the same day! If budget allows, having an on-site video editor means you can quickly edit the best elements, pull it into a short and engaging video, and put it right up on screen!
This is a great way to get sincere, up-close-and-personal engagement with audience members without having to do it from stage. It can also operate as a pretty great icebreaker for something like an "Ask Us Anything" panel, where audience members might need a bit of inspiration before asking their questions.
Ask Us Anything Panel
Have you ever watched an audience die a slow death during a panel that offered little value?  No captivating speakers.  No content worth scribbling notes.  No engaging story or plot twist.  Just a few talking heads in rented furniture holding water bottles you hope they stop drinking from.
Well, great panels aren't easy, but one surefire way to keep the audience in rapt attention is to "unleash the hounds".  Let audience members (led by a seasoned, trusted emcee) ask everything they've always wanted to.  And be sure the panel actually answers!
Nothing is off limits, no topic is too delicate.  It's the panel you've always wanted to do but were too scared to try!  But here's the thing…the audience is more risk-averse than you'd think.  Contrary to the name and spirit of the panel, people are naturally risk-averse.  They simply won't ask the questions you're most afraid of, particularly in a group setting.
Now, that's not a universal truth.  There are occasions when this kind of panel may not be such a great idea.  Use sound judgement, but don't be scared to try it, and you'll find the audience loves the format!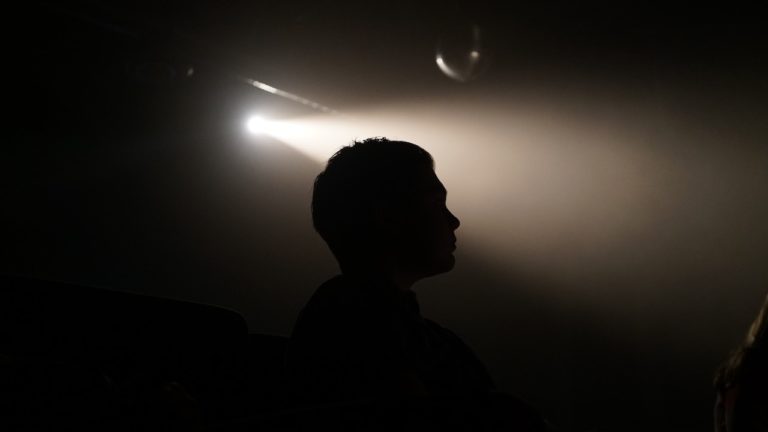 The Audience "Hot Seat"
It's surprising what a carefully-selected seat and a moving light can do when it comes to audience engagement. Meeting the "Hot Seat" – a strategy that might seem random to audience members but is, in fact, highly produced behind the scenes (so you can breath easy).
It happens like this: before the show during rehearsals, the behind-the-scenes crew select a specific seat in the audience that producers are certain will be filled. If you have ushers, this responsibility can also be passed along to them. The show director and lighting designer will randomly move a single moving light until it eventually halts onto the seat… and tada! An audience member in the hot seat. From there, you can ask the audience member a question, ask for their feedback on a particular panelist answer or simply ask them where they're from!
The beauty of this concept is that it appears random to the audience, which will keep just about everyone in the audience on their toes. If you're nervous about putting audience members on the spot, you can even use confederates to loosen up the crowd before training the light on actual audience members.
The key to success with this one is to rehearse, rehearse, rehearse… so make sure you've blocked plenty of time for your show director and lighting director to practice nailing the cue!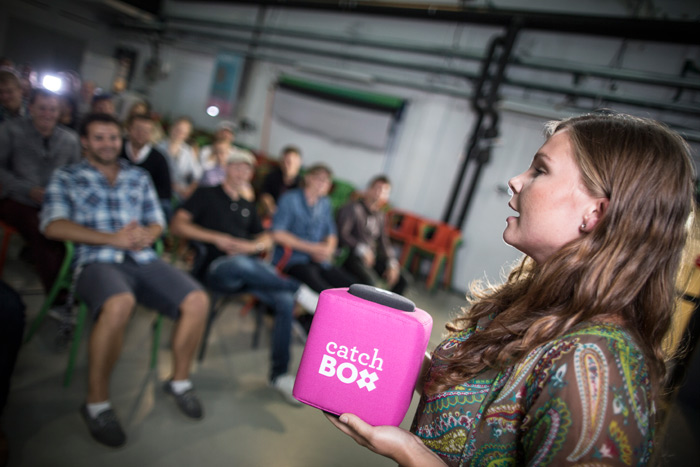 Catchbox mics
Rule number one of any show large or small: every member of your audience needs to see and hear what's going on stage. So when it comes to large shows where engagement is a priority, this can be tough to manage when attempting to speak with single audience members in a large ballroom!
Thankfully, the AV industry is quick on the uptake and have the perfect hand-held answer to the problem: the Catchbox mic. This specialty mic is essentially just a lavalier mic within a protected soft casing. That means you have high-quality sound in a format you can literally bounce off of a wall, toss to an audience member and volley around a ballroom without breaking anything.
Of course, there is always the option of using mic runners, but the awkward waiting time for the runner to actually make it to the speaker can be a real mood-killer if not handled well. The Catchbox solves the problem while adding a bit of extra energy into the mix.
At the end of the day, what really matters in creating an engaging meeting for an audience no matter its size is the right production partner. Have a big show coming up? Looking for more ideas, or auditioning a few production partners? Give us a call! We're all ears.
---
Need a production partner you can trust with a big show? You've found 'em!